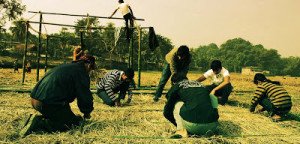 Magh Bihu also called Bhogali Bihu is a harvest festival celebrated in Assam, India, which marks the end of harvesting season in the month of Maagha (January–February)
The festival is marked by feasts and bonfires.Young people erect makeshift huts, known as meji, from bamboo, leaves and thatch, in which they eat the food prepared for the feast, and then burn the huts the next morning.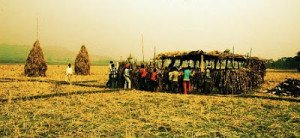 The celebrations also feature traditional Assamese games such as tekeli bhonga (pot-breaking) and buffalo fighting.
Download Amazing Facebook Cover Pictures
Watch Assamese Films
Watch These 5 Amazing Videos 
Interesting Fact : An Assamese film called "Jooj" based on the buffalo fight there had won a Rajatkamal in the 38th National Film Awards in 1990.