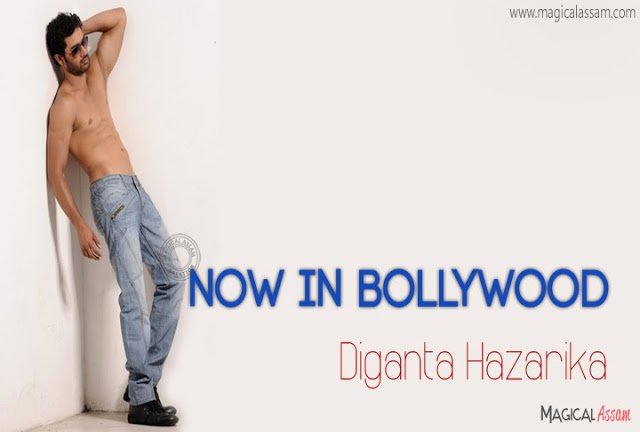 Diganta Hazarika, the dashisng Actor of the region has got a chance to act in Sanjay lela Bansali's upcoming movie which is based on Olympic bronze medallist Mary Kom Biopic. The title role will performed by the actor-turned-singer Priyanka Chopra.
Diagnta Hazarika, one of the most prominent actors of the Assamese Film Industry, was born in 23rd September in Nagaon district of Assam. After modelling for numerous advertisements and shows, Diganta Hazarika made his film debut with "Rishang" against the gorgeous Nishita Goswami. He also acted in super-hit "Rowd".
The Pre-production schedule will start very soon. For this purpose Actor Priyanka Chopra has visited the boxer's hometown Imphal to get first hand information about her.The National Award winning actress, who has been taking notes on Mary Kom's life, was guided by none other than the player herself.
In an interview with Times of  India, Kom told "It was very exciting when we got to know that a superstar is coming to my place. We welcomed her with our traditional folk dance 'Kom Khurpui Lam'. She tried to dance too and I also joined her.Priyanka wanted to know how I talk, and was also keen to know about my interests. I am glad Priyanka is playing me in the film."
We the Team of "Magical Assam" congratulate Diganta Hazarika and wishing him best of luck for this upcoming project in Bollywood.
Read More : Latest Images of Diganta Hazarika
Watch and Download Hot Video : Diganta Hazarika and Panami Bora, film Anuadha
Diganta Hazarika
(This image was posted on Instagram by Priyanka Chopra,  She tweeted: "Road tripppp! Interiors of Manipur r so full of character..with #MaryKom as my travel guide..anything is possible…" )
Priyanka Chopra spent some quality time with Mary Kom and her family. Desi Girl is seen here with Mary and her husband K Onler Kom with their twin sons, Rechungvar and Khupneivar. Photo : Indian Express
PC tweets: Champions r made from tuff stuff!! Learning from the champ herself!
Priyanka is getting into the skin of her character as she tries on Mary Kom's gloves.
Priyanka further tweeted: "Too happy to be hosted by #MaryKom and her husband Onler in beautiful Manipur..checked out all her haunts." 
In traditional Dress : This image was posted on Facebook by Bollywood's Biggest Fans Club – BBFC