When you are born to parents who have come to personify traditional Assamese folk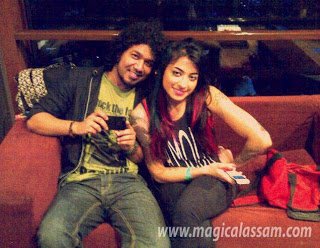 music, and are an heir apparent to the title of 'King of Bihu' (his parents Khagen and Archana Mahanta are influential Assamese folk musicians), it must take both courage and a love for challenges to venture into
 unexplored 
music territory.
Especially when unexplored almost always means fusing with western music and is typically frowned upon. But Papon's music — electro-folk — has been able to maintain the balance between sounding fresh as well as rooted. In this interview, the singer talks about what is currently on his plate.
What do you attribute the resurgence in popularity of folk music to? What has been the role of electronica in giving it a wider appeal?
I think that contemporary acts have started looking at folk a lot more, knowing that it's been so popular for thousands of years. Folk music is coming back into our lives. It's all the same old stories, but told in a new way. Right now, it's an interesting time with regard to new sounds. I think electronica is quite 'now'. With electro and folk, you're able to take melodies and stories that are hundreds of years old — tried and tested tales — and adapt them to what's happening now. And people connect with that.
You've sung quite a few Bollywood tracks this year. Are Hindi films top priority for you right now?
For me, everything is at the same priority level — my band, films and music festivals. I recently sang songs for Madras Cafe, Special 26 and Inkaar. There are also three more films that I'm working on currently.
How often do you travel to Assam to perform there?
On an average, we perform in Assam about once a month. We really love playing there; there's a real rock star vibe to our concerts. It's something for which we keep wanting to go back there; the response, warmth and the vibe.
What was your parents' response when you started doing contemporary versions of folk music, given they are both folk legends?
Initially, they were concerned. But then they understood that I was keeping the essence of folk music intact. I spent a lot of time understanding why and where folk comes from, and have then worked on making it my own. They have been happy with the results.
From being part of two separate numbers in Coke Studio 2, to putting together an entire episode this season as a producer-composer, how has the experience been so far?
It was a whole new story. There were so many different tracks, musicians and styles. It was also a great learning process for me. When I first started working on my music, I thought it was going to be hectic and perhaps a bit serious. But when we started rehearsals, it was so much fun. You will get to see everything, from Assamese folk and beatboxing to new age electronica and ghazals. There are a variety of instruments used over the episode: ravanahatha (an ancient string instrument with a bow), accordion, electric piano, shehnai and duduk (an Iranian instrument).
What about your independent music?
I've just started working on my next album, so that's definitely a focus for me.
What can we expect from your performance at the NH7 Weekender in Pune next month?
We're designing a special set for festivals for (my band) Papon and The East India Company, so we'll definitely have a few new songs as well.