This upcoming Assamese feature film has been inspired by Sahityarathi Lakshminath Bezbaroa's collection of fables. Kothanodi-The River of Fables- is a film about four mothers. The screenplay is based on events and characters described in popular Assamese folk tales compiled in the anthology 'বুঢ়ী আইৰ সাধু' or Grandma's Tales, by Assamese literary luminary Lakshminath Bezbaroa, and first published in 1911.
More about Assamese Movie Kothanodi
Here's the introduction of actors… as seen on Kothanodi Facebook Page
Seema Biswas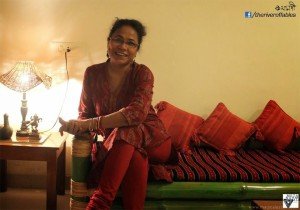 Seema Biswas at home, striking a pose during a creative meeting. Seema is part of the ensemble cast working on কথানদী (The River of Fables). The multiple award winning actress has worked on several Hindi, Malayalam, and Marathi films in a career spanning 25 years, including Shekhar Kapur's Bandit Queen (for which she received a National Award), Sanjay Leela Bhansali's Khamoshi, and Deepa Mehta's Water and Midnight's Children (which fetched her the Canadian Screen Awards in 2006 and 2013 respectively).
Seema, who hails from Nalbari, is not only essaying an important character in কথানদী (The River of Fables), but is also lending her expertise to train some of our actors on the finer nuances of performing for the screen.
Adil Hussain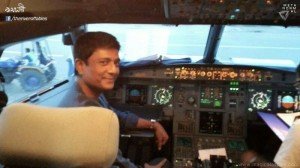 "Before I wanted to be an actor, I wanted to be a pilot," says veteran Assamese actor and কথানদী cast member Adil Hussain. So when he got a chance to visit a cockpit recently, he was more than willing!
A Goalpara boy, Adil first tasted success with the satirical Bhaya Mama troupe in the 1980s, before formally studying acting in the NSD and then at the Drama Studio in London, which he attended as a Charles Wallace India Trust scholar.
Adil has won acclaim for his performances in films such as 'English Vinglish,' 'Life of Pi,' 'Lootera,' and 'The Reluctant Fundamentalist.' Having worked with directors as diverse as Ang Lee, Mira Nair, and Vishal Bharadwaj, it is no exaggeration to say he is Assam's biggest breakthrough actor today.
We are proud to have this talented and vastly experienced actor in the ensemble cast featuring in কথানদী (The River of Fables).
Kopil Bora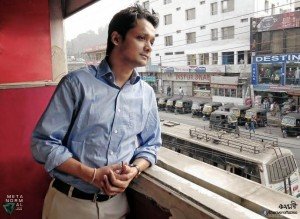 Kopil Bora – popular heartthrob and one of Assam's biggest actors – is a key member of the কথানদী (The River of Fables) team. Not only is Kopil a part of the film's ensemble cast, he has also been instrumental in putting together a tremendous bunch of actors for the film.
Kopil is also active on the Assamese stage, and his latest film – Jahnu Barua's অজেয় (Invincible) – was screened at the 15th Mumbai International Film Festival and has just received a nationwide release.
Urmila Mahanta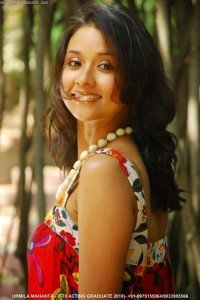 After an early start as an actor in Assamese television, Urmila formally studied acting at the FTII, Pune, and has since gone on to work on many feature and short films. Her filmography includes the National Award winning Tamil film 'Case No. 18/9' and Ketan Mehta's 'Manjhi – The Mountain Man.' Her first Bengali film -'Chirodini Tumi Je Amar 2' – is due for release next month. Urmila hails from Sonapur, Assam and is part of the ensemble cast featuring in কথানদী (The River of Fables).
Zerifa Wahid

Zerifa Wahid poses during a break between sessions in the কথানদী (The River of Fables) acting workshop. Zerifa is a popular actor in Assamese cinema, and also runs a theatre company that has produced adaptations of works by Girish Karnad, Arun Sarma, and Peter Shaffer. In between films and theatre, she also finds the time to practice law at the Guwahati High Court.
Zerifa is a member of the ensemble cast featuring in কথানদী (The River of Fables).
Kasvi Sharma and Monisha Bhuyan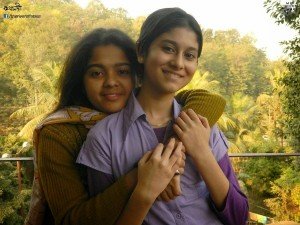 Introducing Kasvi Sharma and Monisha Bhuyan – the two debutants featuring in কথানদী – The River of Fables. Kasvi (right) is a budding actor and dancer from Guwahati, and Monisha (left) is a raw talent from Majuli who is pursuing an MA in সত্ৰীয়া নৃত্য (Sattriya) – Assam's classical dance form.
Both girls are currently in Guwahati, working with the rest of the cast in an intensive workshop to prepare themselves for the film. Seema Biswas – also a member of the cast – is leading the workshop, assisted by Daulat Vaid from the National School of Drama, New Delhi.