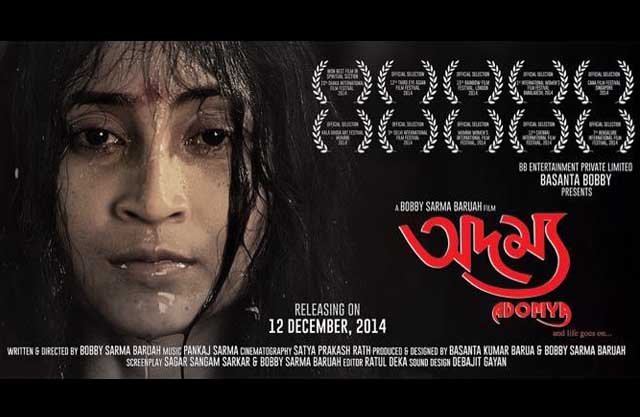 Assamese Film Adomya – 99min | Director Bobby Sharma Baruah
Adomya narrates the story of Juri (Pranami Bora), who faces the brunt of widowhood just after six months of getting married. Her husband proved to be an AIDS patient and she too has become HIV positive. Thrown out of her in-laws' home, she goes back to her village where she gives birth to a girl but even then Juri has to go through social ostracism. Even her daughter is not spared though she tested negative. Her only hope rests with her child, but not without challenges she fights back with great courage and conviction. This film is releasing on December 12, 2014.
Achievements and Awards Received by Adomya
1. Awarded best fiction film (spiritual section) in the 13th Dhaka International Film Festival. 2014
2. Official selection in the 15th Rainbow Film Festival London, 2014
3. Official selection in the 1st International Women film festival Bangladesh 2014.
4. Official selection for the Cana Film Festival in Singapore.2014
5. Official selection in the 12th Third Eye Asian Film Festival. 2014
6 Official selection in the Kala Godha Arts festival.2014
7.Official selection:3rd Delhi International Film Festival
8.Official selection:Mumbai Womens International Film Festival 2014.
9.Official selection:Chennai International Film Festival 2014.
10.Official Selection : Bengaluru International Film Festival.
Movie Theatres With Show Timings
1.FUN(GUWAHATI)………3.45 PM
2.GOLD ASTC SC1(GUWAHATI)…….5.30 PM
3.GOLD NARENGI(GUWAHATI)…….5.00 PM
4.ANURADHA(GUWAHATI)………….5.00 PM
5.PRAGJYOTI(GUWAHATI)…………2.00 PM
6.VANDANA(GUWAHATI)………..2.00 PM
7.RANGHAR(TINSUKIA)……… 4.00 PM
8.AURORA(DIBRUGARH)…….4.00 PM
9.ELEYEE(JORHAT)……..5.00 PM
10.ADITEE(NAGAON)…….1.00 PM
11.SHREE LAXMI(SIBSAGAR)………2.00 PM
12.BHASKAR JYOTI(SIBSAGAR)………3.30 PM
13.MAYAPURI(BONGAIGAON)………..2.30 PM
14.JONAKI(TEZPUR)…………5.00 PM
15.BISWA(N.LAKHIMPUR)…………..2.00 PM
16.SHARMA(PATHSALA)…….2.30 PM