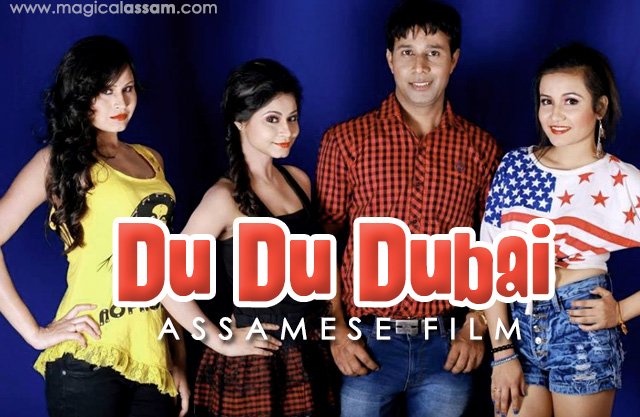 A new Assamese film Du Du Dubai, directed by choreographer Ashim Baishya and produced by Bikul Dutta under the banner of Dreams Production, is currently being filmed in various filmed in various location of Dubai and North East India. Again the shooting of this film has been done in those places of Dubai and Abu Dhabi where Akshay Kumar starrer film 'Baby', Salman khan starrer film "Ek tha Tiger" and Tom Cruise starrer Hollywood film "Mission impossible 2" has been shot. The cinematography has been done by C Thapa from Mumbai.
The film's story, script and dialogues have been penned by Bikul Dutta. The story revolves around a boy who has completed engineering degree but is unemployed. But by dint of his hard work, he finally manages to fulfil his dream of setting down in Dubai. The key roles of the film  have been essayed by Bikul Dutta, Kalpana Kalita, Hima Kakoti along with Popi Kakati, Mayuri Borkakoti, Lachit Deka from Dubai. Dubai's Assam society also helps and takes part in this film. the music for this film is by Pranjal Pradip Bharali. The film has five tracks, of which four has been written by Somiran Malay and one by Tulika Das. The choreographer is Ashim Baishya, and   the editor is Kailash Duara. Makeup is done by Bapan Kalita. The film's publicity designer is Kalyan Kumar Kalita.
The Ashim Baishya directed and Bikul Dutta starrer film "Love in Bangkok" is now ready to release and will hit the theartres after Bihu this year.
Read : More more news about Upcoming Assamese Film