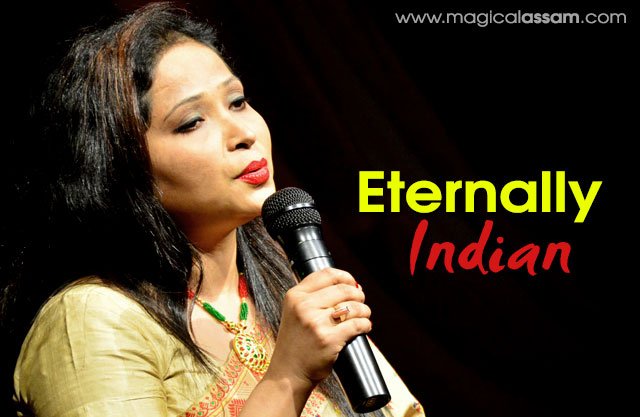 'Eternally Indian' – On The 154th Birth Anniversery Of Rabindranath Tagore Rondeep Productions celebrates the songs of Rabindranath Tagore and Kazi Nazrul Islam.
On the occasion of 154th birth anniversary of India's great poet, playwright, novelist and philosopher, Nobel laureate Rabindranath Tagore, the London-based proud Assamese Dr Ranen Sarma's well-known production company Rondeep Productions successfully organized a two-hour cultural evening featuring the immortal songs of Rabindranath Tagore and Kazi Nazrul Islam that were performed by several prominent and nationally acclaimed singers, musicians and dancers from Mumbai and Kolkata on May 9 to a packed capacity audience at the Rabindra Bhawan.
The program started with the lighting of the traditional lamp by the eminent invitees that included the likes of Dr. Mukti Choudhury, retired Principal, Cotton College and Assamese translator of Robindra Songeet, artist Minoti Phukan, noted politician Dr Hemprabha Saikia, MLA Debabrat Saikia, Prag News chairman and managing director Sanjive Narain, well-known script-writer Prabhat Goswami, filmmaker Munna Ahmed and music director Ratul Chatterjee. Besides the eminent guests, the star performers on stage namely Pranati Khaund, Sandeep Khaund, Sanjeeta Khaund and Kolkata's internationally renowned danseuse Debamitra Sengupta and singer Shomdutta Bhattacharjee were also felicitated on the occasion. These gifted performers were stunningly good as they completely immersed themselves into the material. It prompted genuine delight and applause throughout the program.
More than 30 years ago, Dr Ranen Sarma, born in a cultured family of Jorhat, left Assam to study medicine in England. After his studies, he stayed on, and for more than a quarter of a century, he has been a general practitioner, working for Britain's National Health Service. He treats a diverse range of patients, many of whom are confronted with considerable health and social problems. It's a tough job, but Dr Ranen Sarma knows how to relax; he takes regular walks, goes to the cinema and listens to music.
But Sarma's interest in films and music is much more than mere recreation. He is a film producer, and has also produced a few music albums. He had produced the critically acclaimed Assamese movie 'Ahir Bhairav' which was directed by the late Siva Prasad Thakur. The first Assamese language drama ever filmed on location in London, 'Ahir Bhairav' used song and dance to portray how an aspiring family coped when a much loved daughter became schizophrenic. Starring Bidyut Chakravarty, Purabi Sarma, Kopil Bora, Zerifa Wahid among others, it remains the most expensive Assamese film till date. Dr Sarma even organized some very successful and popular screenings of the movie in towns and villages across Assam. He followed it up with another film, a documentary – 'From London with Love'. Made with the co-operation of doctors, patients and psychiatrists, the film illustrates how the lives of schizophrenics in India could be transformed by using the low-cost 'shared-care' treatment approach that is being pioneered in Assam. Both the films are now available on YouTube.
The cultural evening was marked by the release of Rondeep Productions' brand new music albums on DVD and CD featuring some of the very best and judiciously compiled Robindra Songeet and Nozrul Geeti, entitled 'Eternally Indian'. While the DVD featured 12 beautifully choreographed songs, the CD consisted of 16 songs in all. The eminent invitees released the much anticipated albums on the occasion. The music to all the songs in 'Eternally Indian' is scored by noted music director Rahul Chatterjee. The songs on the DVD and CD are performed in Assamese by Biswajeet Dasgupta, Madhumati Goswami, Anup Jalota, Mahalakshmi Iyer, Sadhana Sargam and Indrani Sen. On the DVD, the songs are beautifully choreographed by Debamitra Sengupta.
On the occasion, the director, artistes and technicians of Rondeep Productions' new ten-part television drama serial 'Jibonor Chaknoyar Somadhan Bichari Habathuri Khaloo Aaji Moi' were introduced on the stage. Currently being shown to tremendous popular appeal on Prag TV Channel, the serial, set in contemporary Assam, follows the intimate experiences of families as they cope with the difficulties of life – from birth to teenage, from courtship to marriage and from maturity to old age. The serial's concept and true-to-life stories are inspired by the experiences and knowledge of Dr Ranen Sarma. Directed by Munna Ahmed from a script by Prabhat Goswami, 'Jibonor Chaknoyar..' also marks his maiden foray into the arena of television drama. The cultural show was beautifully compered by Madhusmita Borkotoky and Pragya Parmita.
Following its television transmission, 'Jibonor Chaknoyar Somadhan Bichari Habathuri Khaloo Aaji Moi' along with other works commissioned by Dr Sarma are now being made available online at www.rondeep-productions.com and on youtube.