A three-day festival of the Northeast just started in New Delhi beginning October 16 to showcase the vast resources, rich culture and potential of the region.
Once again Northeast will come alive in the capital. It would be a colourful carnival of various dance forms of North East, folk music, famous rock musicians of the region,  North Eastern food delicacies,  Handloom & Handicraft Exhibition, Agro & Horti Exhibition,  Exhibition of various tribes of North East, Freedom Fighters etc., colourful fashion shows, traditional sports etc.  North East Festival is also the platform to discuss the critical issues of North East, during NEF 2015 B2B session on tourism, Buyers Sellers Meet, discussion on Act East Policy etc. are organized. This year the focus is on tourism.
The third edition of the festival will see participation of 60 tribal artisans and textile entrepreneurs who would be exhibiting a wide variety of traditional handloom and handicrafts products like bamboo caps, chairs and decoration items of the region.
Since music and dance play a big role in the life of an average person in the region, musical bands including Alobo Naga and Band, Yesterdrive, Traffic Jam and singers Zubeen Garg and Borkung Hrangkhal will be entertaining visitors also total thirty dance forms would be performed during the festival.
Venue and How to Reach
Indira Gandhi National Centre for Arts (IGNCA)
Entry FREE
Nearest Metro Station: Janpath (1.5 km from the metro station)
Entry: Janpath, IGNCA Gate No. 1 for Media Centre/ CV Mess / Amphitheatre
Dr Rajendra Prasad Road,
IGNCA Gate No. 3 for Main Stage Mansingh Road,
IGNCA Gate No. 11 for IGNCA Auditorium & Car Parking
Schedule for Saturday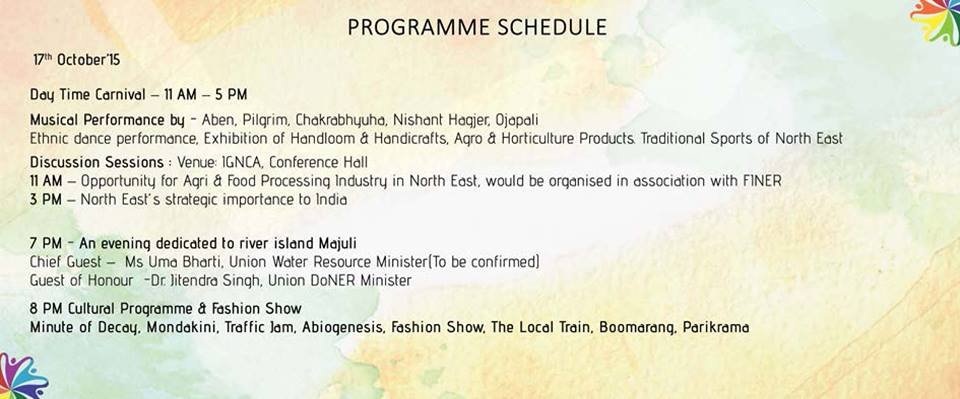 Schedule for Sunday