To commemorate the fourth death anniversary of Dr. Bhupen Hazarika, The Dr. Bhupen Hazarika Foundation (BHF), in collaboration with Care Luit and Pragjyoti Communications, has organized a national forum on 5th November at the India Islamic Cultural Center auditorium, New Delhi. The forum was attended by BHF co-founder Tej Hazarika, son of Dr. Bhupen Hazarika.
Renowned as a popular singer-songwriter, artist, educationist and film-maker from Assam, Dr. Bhupen Hazarika was also a peacemaker during times of conflict. His accomplishments in this area are in the pubic record. Whereas he appreciated the astonishing diversity within the country as one of its greatest assets, he was acutely aware of the great need for people to cultivate a respectful reverence for human values and difference in order to create a more equitable and happier society. Leading educators, journalists, writers and social activists participated in the discussion.
Meanwhile in Guwahati
Paying rich tributes to Hazarika on the occasion of his fourth death anniversary, CM Gogoi formally inaugurated a memorial constructed at the site where he was cremated four years ago. The new memorial, set up on land donated by Gauhati University at Jalukbari here also has a 10-feet bronze statue of Hazarika.
"Bhupen Hazarika was a global citizen in the truest sense of the term. He will always remain immortal in people's hearts because of his songs about universal brotherhood, peace, tolerance and nationalism," Gogoi said.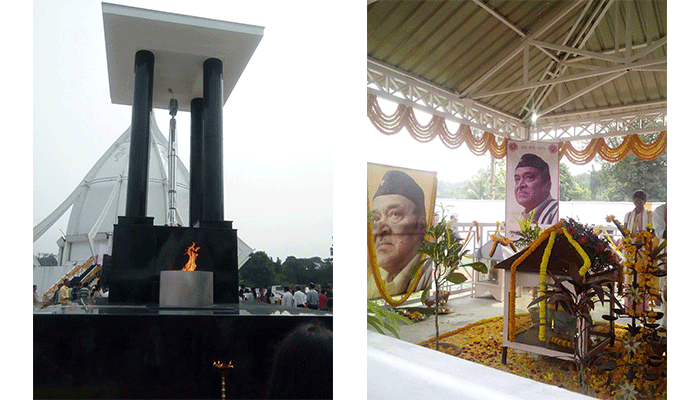 Meanwhile, a function organized by Asam Sahitya Sabha in the Gauhati University campus to mark Hazarika's death anniversary saw the coming of leaders from different parties on the same platform.
Photographs of this article are credited to Madhusmita Devi
Read More:
Shooting Started for Sonar Boron Pakhi – Biopic of Pratima Baruah Pande
12 Things Guwahatians Are Desperately Waiting For