Just like Lohri and Pongal, Magh Bihu is a harvest festival celebrated in Assam and like all Indian festivals that are synonymous with good food, Bihu too is marked by feasts and bonfires. Here are 7 fascinating facts about the Magh Bihu.
1. The Festival of Food
Magh Bihu which is celebrated on the first day of 'Magh' (Assamese Calendar) is also known as Bhogali Bihu, Bhogali means handiness of rich food. Thus Bhogali Bihu represents a festival of food. Magh Bihu is related to harvesting. It's celebrated at a time when all the cultivation works get over and everyone has plenty to eat and enjoy.
2. The Night Before
The celebrations of Bhogali bihu starts one day before the actual day i.e. on the last day of the month 'Puh'. On this eve, people build 'Meji'(structure made of wood) and Bhela Ghar (thatch house) are built and set to fire the next morning as early as 5 am. Prayers are offered to Fire God.
3. Jolpaan – Pithas, Laru, Handoh and Kumal Chaul
The morning of Bihu starts by eating Jolpaan – Pithas, Laru, Handoh and Kumal Chaul. A grand feast is cooked for lunch comprising Sunga Bhat (Sticky Rice Cooked in Bamboo Hollow), Meat, Fish, Vegetables etc.
4. The Bihu Day
On the day of Magh Bihu, everyone takes bath at the dawn and proceed to the meji. The Meji is lit up by one old individual from the society or village. Every one of the villagers get together in the Meji and complete numerous ceremonies. Different sorts edibles like coconut, betel nut, and so on are worshiped to the Meji (Agni Devta). Various types of potatoes, mitha aloo, muwa aloo, etc. are roasted in the large fire of meji and everyone eats from children to old people eat it. Youths also enjoy with cracker like thing made of bamboo called 'Hiloi'.
5. The Most Thrilling Bull-Fight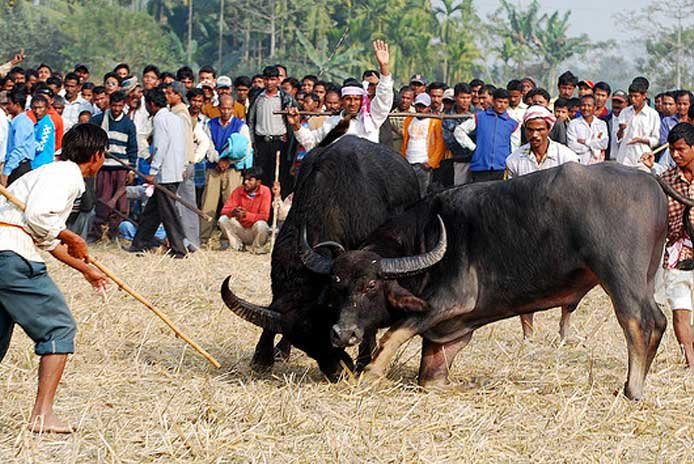 Bhogali Bihu is marked by various special events and among them the most thrilling one is the bull-fight. There are bull fights across the villages and smaller towns across Assam held in open spaces where large crowds from villages come and view these fights. The bulls are taken from the villages and pitted against each other and the winner bull and the master are awarded prizes.
6. The Bird-Fight and The Egg Fight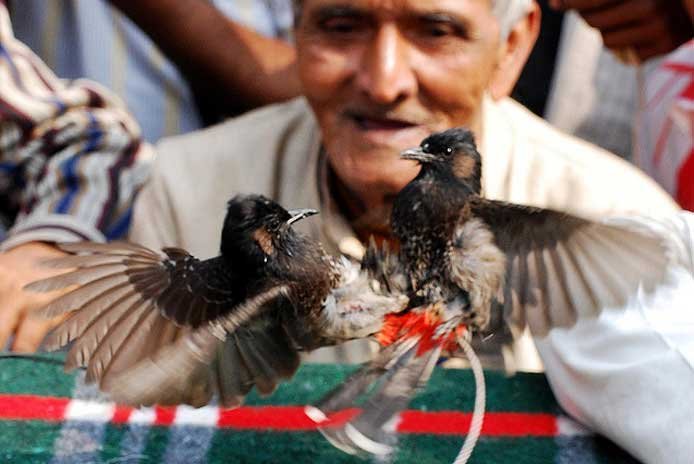 Another special events that take place are bird-find and the egg-fight. In egg fights, two or multiple players play against each other and the winner is the one whose eggs do not crack open when the competitors try to break them.
7. After All.. Its a Celebration of Life
No matter where you do you stay..Delhi, Mumbai, NY, LA.. how lavish your lifestyle is.. if you can't make it to spend these special days at your village home, with family and old friends then you are missing something and you know how it feels.
Interesting Fact : An Assamese film called "Jooj" based on the buffalo fight won a Rajatkamal in the 38th National Film Awards in 1990.
WATCH NEXT