The Google Year in Search gives us an overview of everything that was hot and happening on the internet in the past year. Google Trends has released a list of the most searched people in India, and with 2015 being as eventful a year as it was. But today we have found out 10 most searched Assamese celebrities about whom you have searched most on Google. We haven't included Zubeen Garg and Papon in this countdown and obviously they both are at the top of this list.
1.Devoleena Bhattacharjee
One of the most popular television actresses, Devoleena Bhattacharjee made her television debut with the show "Sawaare Sabke Sapne Preeto" as Bani. Currently, she is playing the lead role of Gopi Ahem Modi in the Star plus serial Saath Nibhaana Saathiya and has gained much recognition for her performance. Devoleena was born on 22 August 1990 in Sivasagar, Assam, Her father who passed away in 1997 was a Bengali and her mother belongs to an Assamese family. She has one younger brother. She completed her schooling from GBME School, Sivasagar, Assam and did her graduation in Commerce. Devoleena has done the Jewellery Designing and Development course from NIFT, New Delhi and worked in GILI, MIDC Mumbai. She learnt classical music till visharad part 1 in Assam at a very early age. Later she learnt Bharatnatyam from Kalakshetra, Chennai.
Most Searched Items: Facebook Profile, Instagram Profile (@devoleena) and Twitter profile (@devoleena2244)
2. Nahid Afrin
This 13 years old Indian idol junior finalist Nahid Afrin was one the most talked about names of Assam last year. Born in Biswanath Chariali, Nahid mesmerizes millions of people with her amazing voice. Her debut bollywood film Akira which stars Sonakshi Sinha and Urmila Mahanta will release this year.
Most Search Items: Songs, Facebook, and Photo/Video
3. Parineeta Borthakur
The multi talented actress and singer Parineeta Borthakur borthakur who was seen in numbers of bollywod films like Force, Chalo Dilli, Kurbaan etc made her debut with the super hit Assamese film Nayak and telefilm Nabajibon.  Her ongoing telefilm is Swaragni where Parineeta plays Sharmistha, a divorced Bengali woman, a single parent, who separates from her husband, to give her teenaged daughter Swara a better future. Her upcoming feature film is Gaane Ki Aane.
Most Searched Items: Biography, Hot Images
4. Plabita Borthakur
Remember Anushka Sharma's Sister in "PK"? Yes, she is Plabita Borthakur and this is the only reason she got so many searches on google.  Plabita belongs to Jamugurihat, a small town situated in Sonitpur District of Assam who will be seen on an upcoming bollywood film "Lipstick Wale Sapney" which also features the talented actress konkona Sen Sharma. Founder of Manu & Chow" (MnC) Plabita also featured in various ad films like PayTm, Paperboat etc.
Most Searched Item: Wiki, Photo and Instagram
5. Panchi Bora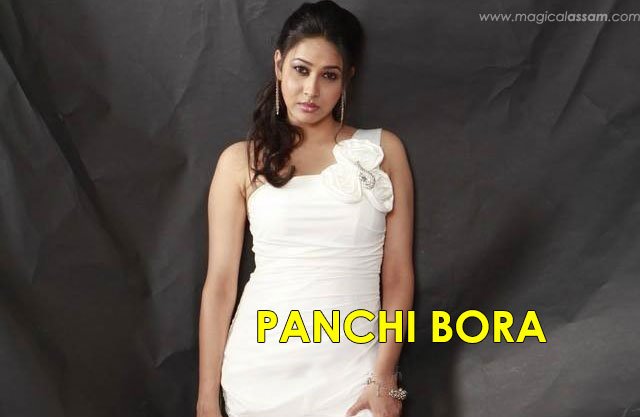 Born on 27 December, the beautiful actress Panchi Bora dashed into the world of fame with her superlative performances in shows like Kitni Mast Hai Zindagi, Kahi To Hoga and Kayamath. She made her feature debut Telugu film Akashame Haddu in 2011 and till date she has worked in around six Hindi and Telugu movies. She has also worked for an international show 'The Hindu' where she played the role of an "extremely spiritual" Indian girl Maya. Her very last show, when she appeared on screen, was MTV's show 'Gumrah- End of Innocence' where she has played the character of Neelam who want to become a fashion, designer.
Most Searched Items: Biography, Instagram Profile and Her Movies
6. Urmila Mahanta
Born in Sonapur, Assam Urmila Mahanta is a student of the Film and Television Institute of India, who made her feature film debut in the critically acclaimed 2012 Tamil crime thriller Vazhakku Enn 18/9. Last year she was seen on another three critically acclaimed films Manjhi – The Mountain Man, Kothanodi- The river of Fables (yet to release)and Antareen (yet to release). Her upcoming films are Epah Phulil Epah Saril (Purab Ki Awaz) Bokul (Assamese)
Akira (Hindi) and Udal (Malayalam)
Most Searched Items: Photos and Biography
Have you seen Urmila Mahanta's recent viral ad Anti Jugaad?
7. Rimpi Das
One of the most popular actresses of Assam, Rimpi Das was in the news because of her national television debut. Rimpi Das, a new find in the television industry has been roped in to play the lead character of Noor Jahan in Big Magic's extremely popular show Hazir Jawab Birbal.  Rimpi left for Mumbai in the month of April last year and for her to bag this lead role in such a short span of time has been remarkable.
Most Searched Items: Biography, Facebook, Instagram and wedding (!)
8. Utpal Das
He started his acting career in 2005 with the Assamese movie Ringa Ringa Mon. Utpal Das has been a prominent face in the Assamese film industry for almost a decade now. With a face and a smile that lights up millions of hearts, Utpal is the unquestionable darling of moviegoers across all sections of the cinema lovers. His upcoming film is Surya- the power.
Most Searched Items: Biography, His Pictures, His Wife's Pictures
9. Diganta Hazarika
Diganta Hazarika who made his debut with Rishang, will be seen with Hrithik Roshan on Manenjo Daro, an upcoming bollywood film from Ashutosh Gowariker. Last year he was a part of one of the most famous series "Everest" telecasted on STAR Plus. He also acted on Anuradha, an Assamese film released last year.
Most Searched Items: Diganta Hazarika in bollywood, Biography
10. Amrita Gogoi
Amrita Gogoi, this mysteriously attractive and fascinating actress was seen in the most popular Assamese film of last year Ahetuk. In a little span of time Amrita has created her own space in this industry with her powerful performances in various music videos and all. This year she will join Hengool Theatre, one of the most polar theatre group of Assam. Her upcoming film Dur is one of the most awaited films of 2016.
Most Searched Items: Images and Videos
Well, this was the list of top 10 Googled Assamese celebrities of 2015. You can also check the list of last year. For your information here are few other names who was just close to the top ten list and we never know they can steal the show this year. They are
Meghranjani
Debashree
Sunita Kaushik
Barsha Rani
Munmi Kalita
Nayan Nilim
Don't Miss
5 Facts About The Assam Girl in Akshay Kumar's Airlift
An Assamese Actor Who Worked in a Hollywood Film [5 Facts]
Watch latest Short Films
The Largest Collection of Assamese Videos