A number of talented actors, singers and other artists from have made it big in showbiz, both in and outside the state. However, there are a few actors from the state who have achieved significant success without stepping into Bollywood and she is one of them.
Yes! we all know her, she is Malaya Goswami, the first Assamese actress to win the National Film Award for Best Actress.
1. The Early Life
Moloya Goswami was born in Dibrugarh in a Rajkhowa family. After completing her matriculation at Nagaon, she came to Guwahati for higher studies. After completing her masters from Guwahati University she chose the career of a teacher. She married a State Electricity Board engineer Pradip Goswami in 1981. Later, her spouse provided her major impetus to pursue a parallel career in films.
2. Her Debut Film Agnisnaan directed by Bhabendra Nath Saikia.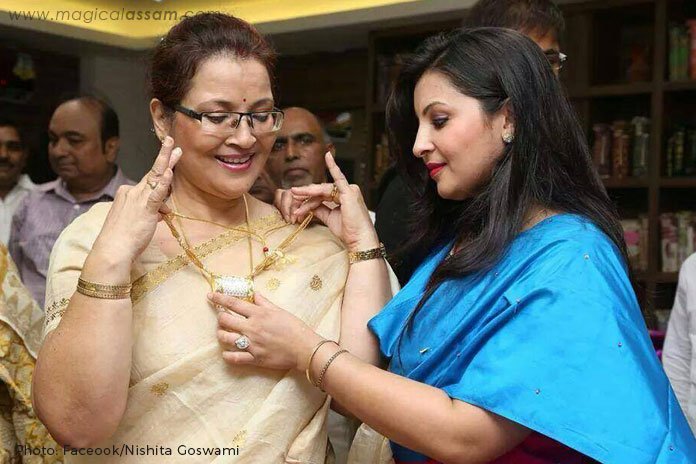 She was approached by Dr. Bhabendra Nath Saikia, the great Assamese filmmaker for his movie 'Agnisnaan'. This film brought Moloya the exposure and fame. Since then there was no looking back for her. Agnisnaan is based on Saikia's novel titled Antareep. 
The story revolves around a wealthy businessman who opts for a second marriage. This decision creates a huge shock and anger for his first wife and his son. It is a story on human psychology along with an off beat story line.How his first wife feels cheated in her unquestionable love and dedication to him and how she takes revenge is the basis of the story.
3. She won the National Film Award for Best Actress for her performance in Firingoti
Malaya Goswami won the National Film Award for Best Actress for her performance in Jahnu Baruah's film Firingoti, which was released in the year 1992. This film also featured Bishnu Kharghoria, Chetana Das and Hemen Choudhury.
Watch Jahnu Baruah's Films Online: Jahnu Baruah Film Collection
The story of Firingoti was set during 1960s. It revolves around a widowed teacher named Ritu (Moloya Goswami). Ritu is transferred to a small Assamese village. Arriving at the village, Ritu finds that the school was destroyed by fire some years back and it exists now only on paper. Ritu decides to rebuild the school and starts campaigning among the villager. Finally, Ritu's school starts functioning under a large village-tree. Twist arrives in the story, when a jobless local intends to take over the school. Ritu fights back and the man with his friends burns down the school house.
4. Konikar Ramdhenu, Another Jahnu Baruah Film
After the success of Firingoti, Malaya Goswami was again chosen for Konikar Ramdhenu by Jahnu Baruah. Konikar Ramdhenu (Ride on the Rainbow) was yet another cinematic masterpiece from the great director which won the National award as Best Regional Film in the year 2002. The story of Konikar Ramdhenu is far from the run-of-the-mill stuff that much of the Bollywood commercials are made of.
5. Her Other Famous Films
Till date Malaya Goswami has acted 11 feature films. Daman: A Victim of Marital Violence, Jeevan Baator Logori (2009), Uttarkaal (1990), Siraj (1988) and Sarbajan (1985) are the most successful films other than the mentioned. She was last seen at Bhal Pabo Najanilu (2013), an Assamese Romantic film directed by Rhituraj Dutta.
Watch Bhal Pabo Najanilu (2013) Full Film Online
6. Her Daughter is also a Famous Actress of Assamese Film Industry
Malaya Goswami has two daughters, Nimisha Goswami and Nishita Goswami, who is also an actress. Nishita started her acting career as a child artist at the age of 6. Her first film presence was as a child artist in Sagar Sangam Sarkar's Rati Phula Phool in the year 1988. Her second film was Mon released in 2000 which was directed by Bani Das. Nishita has done several films after that including films like Kadambari, Dinabandhu, Astaraag and Mon Jaai. Some of them have won the National Award for Best Regional Fim category.
Read More
On The Rise: 7 Assamese Actresses To Watch In 2016
10 Lesser Known Facts About Actor Biju Phukan
Assamese Actress FairyPriya is All Set For Bollywood Debut