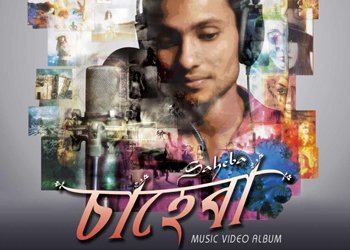 Upcoming talent Amit Soukadhara made his music debut with the recent release a music video album, 'Saheba'. The album was formally released by cultural activists Bhagawat Pritam, Manuj Baruah, Munin Bora, J P Das and Dwipen Borah at a function held at Guwahati Press Club last week. 'Young artists like Amit must get involved with the musical and cultural world as it brings freshness into the industry', said one of the dignitaries at the event. The album contains five tracks that have been composed by the singer himself. The songs have been written by Jyoti Boruah and Lissa Tamuli. Amit has seen this project through several stages including audio mixing. The songs 'Mouna', 'Joli Joli', 'Saheba', 'Jiban' and 'Dil Ki' have also been rendered by him. The video part of the album saw the involvement of director Rakesh Sharma and Editor Ambarish Borkotoki who was assisted by Bratatee Kashyap and Samar. The cinematography has been handled by Rituparna Sarma and Prabin Basumatary. The key role in the videos have been essayed by Suraj Deka, Lashmi Medhi, Juvashni Borah, Tanaya, Anandraj, Subham, Nibha, Jadav, Parash, Puja, Alishmita, Barasha, Kabita, Samujjal, Liza among others. The album has been produced by Amit Soukadhara himself.
Amit, son of Bhavaniprasad Soukadhara and Jyotiprabha Boruah Soukadhara, had learnt music under Munin Bora and then pursued sound engineering form Jyoti Chitrabon in 2010. After passing from Jyoti Chitrabon, he worked with Bhagawat Pritam as an assistant music director and was associated with various serials of 'Rang', the local entertainment channel. Then he moved to Mumbai and worked as a Foley recorder in Debajit Changmai's studio 'Sound City'. Amit has returned to the State solely for his album. He also worked as a location Sound Recorder in Rakesh Sharma's Assamese feature film 'Anuradha'. Amit is currently working on Rang Channel's popular comedy serial 'Oi Khapla' and was also involved with an Assamese video song 'Niribili Jonakk' which was rendered by a Manipuri singer.
'Saheba' is Amit's first venture and he hopes that the Assamese audience will accept his album and his work will be appreciated. Amit has already performed in various Bihu functions all over Assam. He is ready to participate in the various Bihu functions across the State.