30+ people have died while more than 20 lakh have been displaced and Kaziranga National Park has been completely inundated in the Assam flood.
Meanwhile the national media is more concerned with the waterlogged streets of Gurgaon, Bengaluru and Mumbai flood.
But the facts is that an actual flood has crippled the north-eastern state of Assam and it is the worst one in a decade.
37 lakh people across more than 3,300 villages in 28 districts of Assam have been affected by the floods

, but only 2.3 lakh have taken shelter at relief camps.
More than 150 villages had to be evacuated. In all, 3,374 villages have been affected by the deluge.
Farmers across 22 districts face immense losses with their crops destroyed by floodwaters and their livestock left abandoned.
According to a rough estimate by the Assam State Disaster Management Authority (ASDMA) around 12 lakh poultry animals and several lakh poultry birds have been affected
Several districts have been completely cut-off from the rest of the state. Chunks of main roads in Morigaon, Jorhat and Dibrugarh districts have swept away, snapping road communications.

In the Morigaon and Barpeta districts of Assam, 1.95 lakh hectares of crop area is still under water, which is 3 times as much as the entire city of Mumbai.
Kaziranga National Park is in Danger.
The Kaziranga National Park, home to the world's single largest population of one-horned rhinos, has been completely submerged in water. This is the worst flood in Kaziranga since 1988.
Of the 2,431 rhinos in Assam, 2,401 live in Kaziranga National Park which is located on the floodplains of the Brahmaputra. In fact, the four national parks in the state account for 80% of the world one-horned rhino population.
Image Source: Eco tourism Society of North East India/Facebook
Vast areas of the other three national parks – Manas, Orang and Dibru-Saikhowa – and the Pobitora Wild Life Sanctuary has also been flooded.
Three rhinos, seven rhino calves and more than 18 deer have reportedly been killed in the deluge.
Rescuers were able to save eight rhino babies from being washed away. Aged between a month and a year, the babies had been separated from their mothers and were found in distressed and dehydrated.
According to a report on huffington post nearly 200 wild animals have drowned to death due to flood at Kaziranga national park. Divisional Forest Officer of the park Subhasis Das said that carcasses of 13 rhinos have been recovered so far in Kaziranga.
Facts that Broke Us – The Same Old Story
There's a national calamity taking place and the National Media(!) is more concerned with the waterlogged streets of Gurgaon, Bengaluru and Mumbai flood.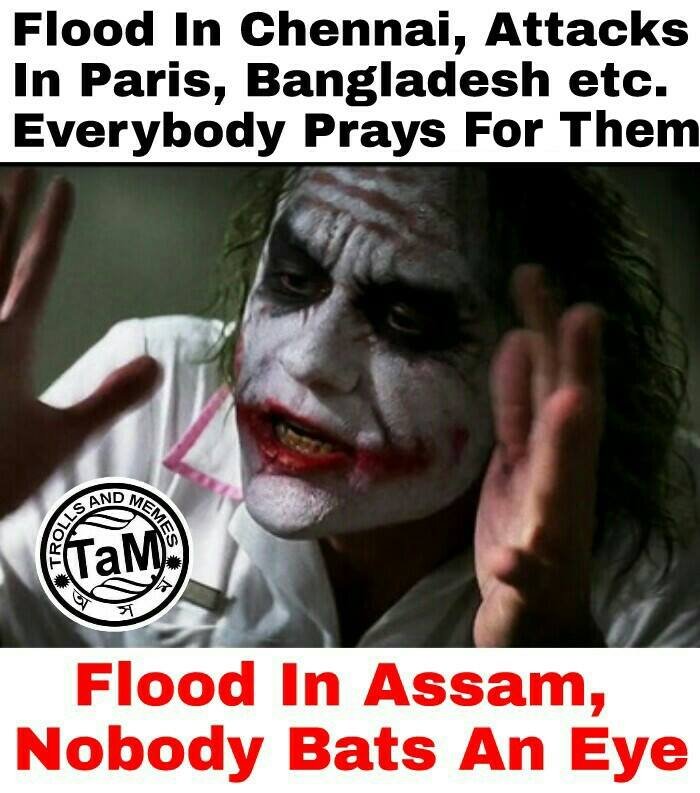 Assam Flood is not a national disaster says Union Minister, Rajnath singh. He returned back without giving any monetary help to Assam flood affected people.
From Zubeen Garg to National Media

The Situation Now..
CRPF and NDRF teams are deployed in various locations.
State Disaster Response Force (SDRF) teams with deep divers have also been attached to the 27 Fire Stations of the State.
Assam State Disaster Management Authority (ASDMA) has opened a round the clock Control Room with help lines 1070, 1079 (Toll free No.) & 0361-2237011 (Landline).
Various NGOs, Individuals as well as Groups came out to help flood affected people. The social media is playing an important role.
Over to you
Here are the 6 ways you can help the #AssamFlood victims.