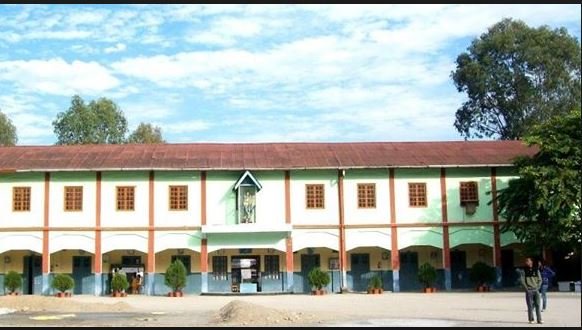 St. Mary's High School, North Lakhimpur, a premier English medium educational institute of Assam has completed 50 years.
This institution was set up by the MSMHC (Missionary Sisters of Mary Help of Christians) on 8th March 1966. Since then this institution has been imparting quality education for all the round development of a child.
The motto of the school is to educate person with character and competence to build a civilization of love. The Golden Jubilee celebration was inaugurated on 22nd Sept 2016 by the Bishop of Tezpur Diocese RT. Rev. Michael Akasius Toppo along with Mother General Rev. Sister Philomena Mathew and provincial Rev. Sister Anita George.
A holy mass was conducted which was followed by cultural programme and a fellowship meal organised by the alumni of the school. The concluding ceremony of the Golden Jubilee will be held on 13th, 14th and 15th Oct 2016 at the school premises with the participation of maximum alumni, ex-teachers and invitees.
Following are the details of the celebratory proceedings:
On 13th Oct, the programme will start with the flag hoisting ceremony in which fifty numbers of school flag will be hoisted by prominent intellectuals of North Lakhimpur. A floral tribute to the deaths will be organised which will be followed by the inauguration of Science exhibition and the inauguration of the Golden Jubilee Souvenir.
In the afternoon session there will be a cultural programme organised by present and past pupils followed by an EDM night. On 14th Oct, a mega cultural procession will be taken out from Govt. Boys Higher Secondary School playground to St. Mary's High School in which all the present and past pupils of the school will participate.
This will be followed by an Alumni meet, felicitation of ex-teachers, HSLC state level rank holders of the school and then Fashion show followed by a musical extravaganza by the Alumnis. On 15th of Oct there will be an Open session with distinguished invitees which will be followed by a Cultural programme by an invited artist. This Golden Jubilee celebration of the School is organised by the Alumni in association with School Management.
Various other welfare programme like distribution of fruits among children in the children ward of the North Lakhimpur Civil Hospital, cleanliness drive in the ward, distribution of dustbins, plantation programme, inter-school quiz competition etc are also organised in co-ordination with other programmes.
According to the present Headmistress Sister Sophy Varghese, the excessive zeal, enthusiasm and the co-operation shown by the Alumni has made it possible to celebrate the Jubilee in a grand way.
This article was first published on voiceofgreaterassam