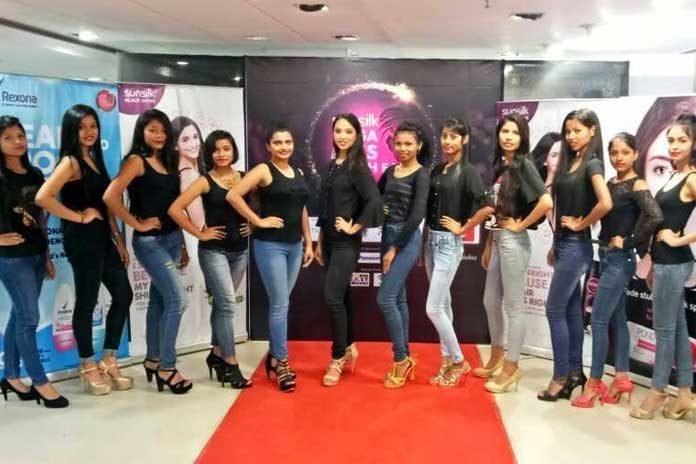 Mega Entertainment, north east's largest fashion and pageant event organizer, conducted the auditions for the 15th Edition of Sunsilk Mega Miss North East and 8th Edition of Fair & Lovely Men Mega Mister North East today at Trends, located at SG Commercial Complex, near Thana Chariali, Dibrugarh.
Around 30 girls and 20 boys turned up for today's auditions held at Trends. Following this, the Mega Entertainment team will conduct auditions in Imphal on June 4th, Shillong on June 5th and finally in Guwahati on June 11th. The Agartala and Itanagar auditions held on May 29 and May 31 respectively saw the participation of over 100 men and women from different parts of Tripura and Arunachal Pradesh.
Sunsilk Mega Miss North East and Fair & Lovely Men Mega Mister North East are conceptualized and inspired by fashionpreneur Abhijit Singha, the power house of fashion pageant industry of the region, and will feature the most beautiful young women and the most desirable men from the eight north eastern states- Assam, Arunachal Pradesh, Meghalaya, Manipur, Mizoram, Nagaland, Sikkim and Tripura, who will travel to the host city for the Grand Finale.
Watch
Assamese Film Calendar – Trailer
Video Song – His Name is GK – Local Kung Fu 2
The pageants will have a strict pre-judging session during their grooming sessions, where the female contestants will be judged on their poise, carriage, intelligence and beauty. The male contestants will be judged on their intelligence, fitness, personality and confidence. On the day of the Grand Finale, Meriya Subba- Reigning Sunsilk Mega Miss North East 2016, and Animesh Pandit- Reigning Fair & Lovely Men Mega Mister North East 2016 will felicitate their successor at the conclusion of the pageant.
Kanhaiya Mehta, Managing Director- Mega Entertainment says, "Mega Entertainment makes it a mission to give our winners an international platform from where their dreams can take flight. The Sunsilk Mega Miss North East crown winner will get the opportunity to be featured in advertisement campaign of Sunsilk and to walk the Lakmé Fashion Week ramp for Trends in Mumbai, which in itself is a dream-come-true, even for various well-established models. The Fair & Lovely Men Mega Mister North East will also get opportunities to walk in various pioneering fashion shows and glamour events across the region."
Abhijit Singha, Founder of Mega Entertainment, says, "In the past fourteen years, we have seen immense growth in the quality of talent emerging from this region. Assam has given us some of our most beautiful talented and popular contestants. One of our previous winners Juhi Gogoi hails from Dibrugarh and is making Assam proud at different levels."
"2017, being our benchmark 15th year for Sunsilk Mega Miss North East, will definitely hold bigger surprises, better opportunities and the association of many big names from the fashion and glamour industry. We do hope that our contestants will make the most of this opportunity and give these auditions their best shot", he adds.
Sunsilk, India's premium hair-care brand announces a one-of-its kind association with Mega Entertainment, northeast's largest fashion and pageant event organizer. As the presenting sponsor for this much-awaited contest, Sunsilk celebrates the free-spirited, joyful and confident girl. Given the spirit that the Sunsilk girl embodies, there could not have been a better association than with Mega Miss North East where all the young girls from different walks of life write their story in their own way, with their black shiny hair by their side, be it day or night!
This season, in Mega Miss North East, it's not just about beauty but confidence as well. Irrespective of their looks, shape or size, women from across all states can showcase their unique talent at the auditions to win a direct entry to the finale by being crowned 'Rexona Miss Confidence'.
The Sunsilk Mega Miss North East 2017 and Fair & Lovely Men Mega Mister North East 2017 winners will get a prize package will be worth around Rs. 3,00,000, including cash prize of Rs. 25,000, gift hampers from Sunsilk, Panasonic, UM Motors and other sponsors, opportunity to become the face of Sunsilk's print and outdoor campaigns and opportunity to walk the biggest fashion event of the country Lakmé Fashion Week for Trends in Mumbai.
Besides, winners of both the pageants will win professional representation by Mega Entertainment, and a professional grooming session, which would guide them further on how to carry themselves forward in the professional sphere. Besides, the winners also get the opportunity to walk the ramp in various national and international shows, and traveling and international representation opportunities in countries like Laos, Myanmar, Vietnam & Cambodia.
Registration forms and details are available on www.megaentertainment.org or call: +91 84040 93936 for Mega Miss North East and +91 84040 93938 for Mega Mister North East. Registration forms are also available at Trends stores across the region.
Don't Miss
12 Facts About Assam That Make It Stand Out From The Rest Of The Indian States