In a recent report published by Time8, they stated that the Ex IAF Sergeant Bikash Kumar Das who had e-mailed the Defence Minister and high ranking defence officials against Zubeen Garg's recent comments, allegedly against a CISF SI, now claims he has received a death threat on social networking site, Facebook.
As evidence they got an email from Ex Sergeant Bikash Kumar Das with a link where he received a "death threat"
Here's the email screenshot released by Time8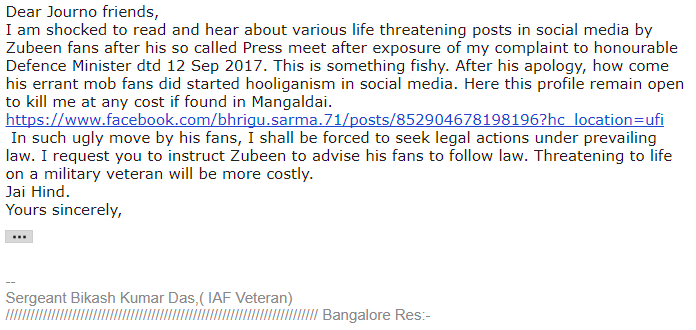 Here's the link: https://www.facebook.com/bhrigu.sarma.71/posts/852904678198196
Here's the screenshot
BUT,
As mentioned in the email, we are unable to find the "death threat" in that Facebook update. Yes the update contains harsh words but there are no words like "kill" or "Mangaldoi" etc.
The article doesn't make any sense now… what going on then!!
We have a comment box… feel free to use that.