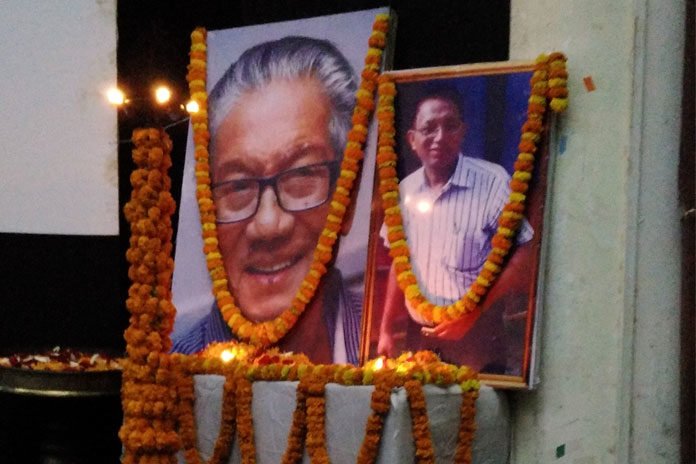 Abdul Mazid was a man who breathed life into Assamese cinema and Anuj Goswami was someone who breathed his last while he was on his way to watch a movie. One was an exemplary filmmaker and actor and the other a common man who was in love with the extraordinary world of cinema. There couldn't have been a better beginning to the 10th International Guwahati Film Festival 2017 than paying a tribute to the two recently departed souls who are now resting in a cinematic heaven far away from us.
The opening ceremony of the 10th International Guwahati Film Festival was held at the historic District Library Auditorium, Guwahati in association with Gauhati Cine Club, in the presence of eminent film, television, theatre and music personalities. This year's Lifetime Achievement Award was conferred upon actor Dilip Kumar Hazarika of 'Maniram Dewan' fame. The award was sponsored by JRMD Goenka Charitable Trust and presented to him by Madhurima Baruah, the Secretary of Gauhati Cine Club. It was followed by a spirited and nostalgic speech by Mr. Hazarika who spoke fondly of Mazidka, who gave many memorable performances at the District Library stage as a theatre actor, and also about the hypnotic pull of the magic of cinema. He concluded his speech with a slogan that 'Abdul Mazid will always live in our hearts'. Abdul Mazid's nationally acclaimed film 'Chameli Memsaab' will be screened on 16th December at 3.30 PM.
One of the chief guests of the evening was new age Nepalese film maker Nabin Subba whose film 'Goodbye Kathmandu' was given the honour of opening the weeklong film festival which will be held from 11th to 17th December. Having seen the film myself I can say that it is a film worthy of opening a film festival and deserves to be seen by more and more people. 'Goodbye Kathmandu' ushered in a new era of filmmaking in Nepal also known as the 'Fourth Cinema' movement. The film is a perfect combination of stunning visual scenery, rock beats, young love, dreams, desires and frustration. It was earlier screened at the 2017 Busan Film Festival where it earned rave reviews from renowned film critics all over. Before presenting the movie before the eager audiences Mr. Nabin Subba shared his personal journey so far and how he was fascinated with Assam and its people even as a child. There was honesty in his speech as well as in his film which is why the crowd fell in love with his personality and work.
Other distinguished guests of the evening included Ms. Pami Brahma, the programme coordinator of the New Delhi branch of the Japan Foundation who not only supported the event with her presence but also gifted three Japanese films to the festival. These films are 'Thermae Romae' by Hideki Takeuchi, 'Yojimbo' by Akira Kurosawa and 'A Tale of Samurai Cooking: A True Love Story' by Yûzô Asahara. Actor Kapil Bora, filmmaker Maju Borah and IAS Preetam Saikia were also present at the event. This year's festival is also special as it will screen acclaimed director Utpal Barpujari's film 'Ishu' dealing the sensitive and controversial issue of witch hunting. It will also mark the Northeast premiere of the film.
A total of 28 films including short films will be screened during the festival and the closing ceremony will be held on 17th December starting from 5.15 PM. The Gauhati Cine Club deserves a huge round of applause for successfully organizing the 10th edition of one of the first premier film events of the region. The club was founded in 1965 and Dr. Bhupen Hazarika was one of its founding members. This year the club celebrates its 53rd year of existence. So all the film lovers out there don't miss this golden opportunity to get completely immersed in cinematic flavors from around the world.
Written by David Lagachu. Freelance Writer. Currently writing for the www.thecinemaholic.com.