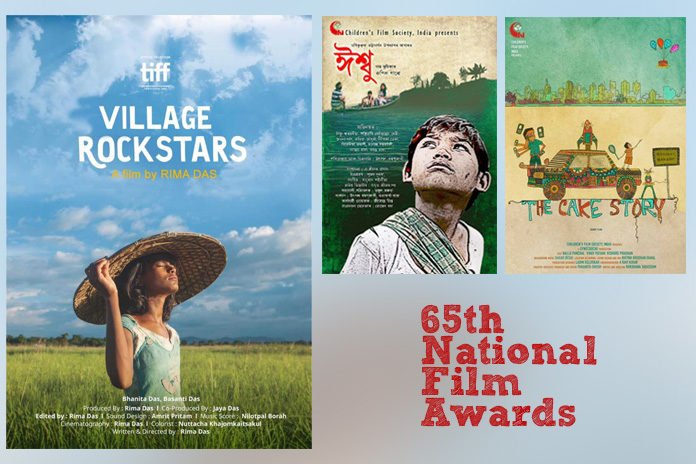 In a breakthrough moment for Assamese cinema, Rima Das' directorial "Village Rockstars" was named the Best Feature Film at the 65th National Film Awards here on Friday. It is after 29 years that an Assamese film has won the honour.
Jahnu Barua's "Halodhia Choraye Baodhan Khai" had won the award last in 1987.
Embed in Rima's own town Chhaygaon near Guwahati, "Village Rockstars" is the story of "poor but amazing children" who live an exciting life.
The movie opens with the kids having a good time as a rock band. As the story progresses, it records the entire gamut of fun that these rural children are having despite living a life of hardship and deprivation.
Rima has actually also won the very Best Editing honour for "Village Rockstars", which has won the Best Child Artist honour for Bhanita Das. It has also been recognised for Best Location Sound Recordist Mallika Das' work.
Again, The Best Assamese Film award went to Utpal Borpujari for "Ishu". Borpujari is happy about the win.
"I am extremely pleased to win this award as 'Ishu' is my launching feature film. I am happy for my cast and crew who supported me throughout," he told in an interview.
He is also emotional about the victory of "Village Rockstars".
Don't Miss: Rima Das Interview with Anupama Chopra | Village Rockstars | TIFF
"I am more pleased about 'Village Rockstars' due to the fact that after 29 years, an Assamese film has actually won the Best Feature Film Award.
"What is more special about 'Village Rockstars' is that it is an absolutely independent movie which Rima Das made with her own resources with an extremely small crew. For such a movie to win the National Award is a huge achievement. This film has actually been commonly acclaimed in international movie circles," Borpujari stated in a statement.
Don't Miss: Ishu – The First Feature Film by National Film Award Winning Film Critic Utpal Borpujari
List of Awards for Assamese Films at the 65th National Film Awards
BEST FEATURE FILM IN INDIA: VILLAGE ROCKSTARS by REEMA DAS (ASSAMESE)
RAJAT KAMAL AWARD for the BEST ASSAMESE FILM: ISHU by UTPAL BORPUJARI
BEST EDITING: REEMA DAS (ASSAMESE FILM "VILLAGE ROCKSTARS")
BEST LOCATION SOUND: ASSAMESE FILM "VILLAGE ROCKSTARS"
BEST CHILD ARTIST: BHANITA DAS ("VILLAGE ROCKSTARS")
JURY SPECIAL MENTION AWARD:: ASSAMESE FILM – THE CAKE STORY (NON-FEATURE SECTION, FICTION) by RUKSHANA TABASSUM