Hima Das clinched the top spot in the women's 400m final race in the IAAF World Under-20 Athletics Championships to become the first woman athlete to win a gold medal at the world level. Here are five facts you should know about her.
1. The Begining
The daughter of a farmer from the village of Dhing in Assam's Nagaon district, Hima's talent was spotted by Nipon Das last January and he went on to become her coach. According to a report in the Indian Express, Nipon, an athletics coach with the Directorate of Sports and Youth Welfare, convinced Hima to shift to Guwahati for better facilities.
2. Her Background
Hima is the youngest of six children and her parents work in a rice farm in Dhing village in Assam's Nagaon district.
But that was no deterrent as far as Hima's love for sports is concerned.
She started off playing football as a child, playing with boys in the mud pits next to the rice fields where her father worked.
3. First Indian Woman Athlete to Win a Gold Medal
Athlete Hima Das made history by becoming India's first ever track and field gold medallist at the IAAF World Championships, when she aced the women's 400 m event at the IAAF World U-20 Championships in Tampere, Finland. The 18-year-old from Assam clocked 51.46 seconds, edging out Romania's Andrea Milkos (silver) and America's Taylor Manson (bronze).
4. Hima Das to Become Assam's Brand Ambassador for Sports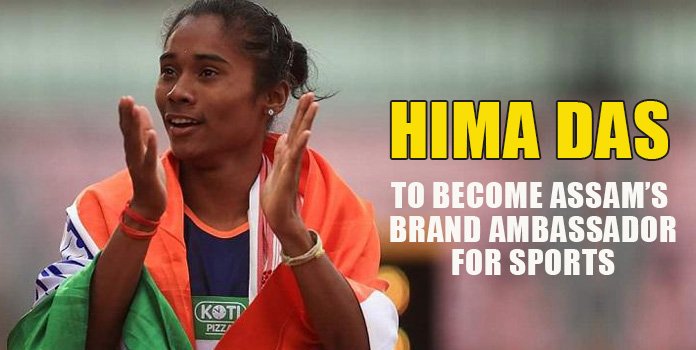 Assam Chief Minister Sarbananda Sonowal announced that in order to inspire the budding players of the state to aim big and the young generation to take up sports seriously, Hima will be made the state's brand ambassador for sports.
5. PM Modi 'Moved' as Hima Das Breaks Down During National Anthem
Prime Minister said he was "moved" by the 18-year-old's "passionate search for the tricolour" and emotions while singing the national anthem after her win.
Unforgettable moments from @HimaDas8's victory.
Seeing her passionately search for the Tricolour immediately after winning and getting emotional while singing the National Anthem touched me deeply. I was extremely moved.
Which Indian won't have tears of joy seeing this! pic.twitter.com/8mG9xmEuuM

— Narendra Modi (@narendramodi) July 14, 2018
6. Athletics Federation's comment on Hima Das' 'English accent' Draws Flak
Amidst these, the Athletic Federation of India (AFI)'s Twitter handle made a remark on her "not so fluent English" which has landed them at the receiving end of flak on the internet.
The tweet made by the Athletics Federation of India read, "#HimaDas speking to media after her SF win at #iaaftampere20118 @iaaforg Not so fluent in English but she gave her best there too. So proud of you #HimaDas Keep rocking and yeah, try your best in final!"
People from the state and outside raised the question on the tweet made by the AFI and asked if was necessary to highlight about her English proficiency.
AFI eventually posted two tweets to apologize.
"We apologise to all Indians if they were hurt by one of our tweets. The real intention was to show that our runner is undaunted in any situation – on the field or off it! Despite coming from a small town, she spoke without hesitation to foreign reporters in English! Once again we apologise to those offended, Jai Hindi!" it wrote in Hindi.
7. Bengal's Web Portal Claims "Banglar Hima", Later Apologised
A web portal from West Bengal posted a photo card saying that Hima Das is from Bengal and they are proud of this. Later they realized and apologised.
8. Hima's Inspiration – Mon Jai
Hima is a big fan of Zubeen Garg who inspires her a lot during her journey. She has this special Assamese phrase which she holds close to her heart – Mon Jai – This phrase is from Zubeen Garg's film with the same name.
Hima believes on Dreaming Big. She shares her secret: 'I don't run after medals, I run after time,'