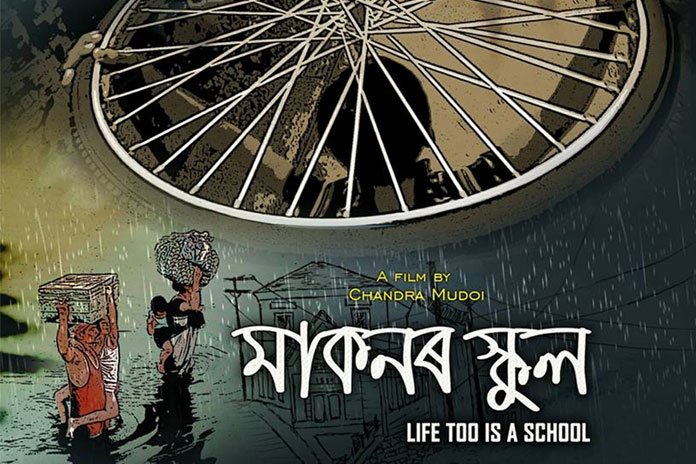 Director Chandra Mudoi, always a capable man behind the megaphone, has just completed the post-production works of his new Assamese film 'Makonor School' (Life too is a School). The movie marks a new journey for the filmmaker who has a reputation of incorporating the more commercially appealing elements into his films. Before this, he has to his credit 13 movies, which have tasted a good deal of success.
Presently, digital filmmaking is garnering a lot of momentum, and has become the hot medium for filmmakers to realise their dreams. The movie market too has evolved a great deal. It's quite tough for filmmakers to secure distribution for their films, nowadays. As Rima Das's 'Village Rockstars' has shown, publicity is absolutely key to generating audience's interests in a film and getting successful launches at festivals. Seizing the attention of audiences and holding their interest is a greater challenge than ever for today's filmmakers. Times have changed. The stories produced in the 80s and 90s look so much quainter today. Films with stories closely connected with the local milieu have always fascinated audiences all over the world. On the one hand, we have got filmmakers – the more experienced lot, who are more susceptible to the tried and tested formulae, and, on the other hand, we have a handful of filmmakers – the younger lot, who are more than willing to experiment with form, content and style to create realistic movies.
For his new film, Chandra Mudoi diverges from his commercial film style  to focus on a pressing issue which has been plaguing the city of Guwahati for years on end now. The unprecedented artificial floods in the city and a rickshaw puller's daily survival to support his family, is thoughtfully rendered by the director in this film, which uses authentic locations and human experiences. 'Makonor School', based on his own story and script, is produced by Sunil Dutta and Barnali Dutta under the banner of Bornali Creative Vision Entertainment.
The charm of 'Makonor School' lies in its projection of ordinary people, belonging to the most marginalised sections of the society, coping with numerous challenges, and whose daily survival preoccupied their lives.
The film revolves around the close-knit family of Jadhav, a rickshaw puller, his wife Makon and their two little kids. Makon didn't study that much, but she learnt on her own the very lessons that life has taught her. It has inspired her in overcoming hardships and to be able to bear all the pains. As such, she has learned that life itself provides answers and is a school in itself.
Jadhav makes just enough to support his family by pulling the rickshaw. Makon runs a small shop along the footpath. Besides assuming responsibility for their household, they send their children to a government-run school. They aspire greater things for their children. Makon was forced to abandon her studies due to poverty, but she wishes to see her children well-educated, thereby fulfill her own unrealised wishes.
During the monsoon season, a single heavy spell of rain leaves streets in Guwahati waterlogged. Soon enough, traffic comes to a standstill, and people have to remain confined to their homes. The rickshaws, then, are the only means of transport available for the people. As their demand increases, people like Jadhav end up making the most of it, as they can charge commuters any fare they want. So he doesn't mind if there is heavy rain.
However, their dreams, goals and aspirations were shattered to pieces on a fateful day, leaving an overwhelming sense of sadness, despair and depression to Makon's family that has fought their way out of poverty and various obstacles. Chandra Mudoi has finally found a subject that addresses a contemporary social issue, while making an earnest attempt to deal with the problems of a community, struggling with poverty, social inequality and marginalisation, which is likely to resonate with the discerning viewers. The leading artistes Rajib Kro, Pranami Bora, child artistes Rodali Bora and Nayan Das have to endure searing heat and monsoon downpours, which really left them physically drained during the film's shoot. Rajib Kro learnt the art of pulling a rickshaw by paddling for miles before the production began. The film's background music is scored by Palash Gogoi. The film's sound designing and re-recording has been done by Hengul Medhi. The film's chief assistant director and costume designer is Rosy Bora. Cinematographed by Naba Kumar Das, edited by Rajib Saikia, the film's DI Colorist is Ashim Sarma and VFX is by Abhijit Handique. Given the film's theme, 'Makonor School's main audience might well be found on the festival circuit, where it is expected to do well