Gone are the times when Indian women wore plain blouses with their sarees. Fashion has changed the designs of the blouses to introduce fashionable and stylish to wear with any particular saree. The beauty of the saree is now enhanced by wearing it with a blouse that has a fancy design that matches the saree design. The designs, material, colours, patterns, and types of sarees are now different and so are the blouses.
There are now blouses with net, material, silver and gold laces, stonework, mirror work and much more at stylecaret online stores. The blouses could be a sleeveless, long cut, full sleeves, high neck, etc. Each blouse can be worn with a plain saree to transform a simple look to an elegant one. You don't want to disappoint when it comes to dressing up for a special occasion or function.
If you are looking for a fancy blouse to pair with your saree then you have come to the right place. These different blouse designs will complement your saree and make you look trendy and beautiful.
1. Halter Neck Blouse
This beautiful blouse has stonework, zari, and beautiful colours. This fashionable and trendy halter blouse neck design has a front slit that gives it a stylish look. The unique thing about this blouse is the three mirrors placed strategically on both sides of the blouse which is the first thing that you notice when you look at the blouse.
2. Puffed Design Saree Blouse
This is a different version to the off shoulder blouse where you can't see the entire neck. It has puffs attached to both ends of the blouse. The puffed sleeves are made with beautiful stitching that gives the blouse a different look.
3. Off Shoulder Saree Blouse
This pink off shoulder blouse has a silver lace that runs all around. This gorgeous blouse is among the latest trends in fancy blouse designs that you will love to wear. Pair it with a net or transparent saree so that the beauty of the blouse isn't hidden.
4. Diamond Back Design
This brocade silk blouse has a net design on the back and net sleeves. The nets at the back are tied with big pearls that form a diamond shape. The pinch work done on the diamond-shaped net is the same on the two bows attached to each other.
5. Ovular Bow Net Blouse
A fancy back neck design that includes a net design is the main attraction on this black fancy blouse. It has a transparent back with a circular pattern on the back with a bow-tied design at the back waist. This blouse will add an elegant look to your plain silk saree or chiffon saree for a special occasion.
6. Front Chain Blouse Design
A fancy blouse with a different design made with cotton silk. The blouse has a minor collar with a drop circular design at the back. The front part of the blouse has a chain opening that gives it a jacket look suitable for parties. Pair it with a silk or cotton saree with a pallu that is printed on one side to show off the design.
7. Deep V Blouse Design
Shiny black, silver or golden blouses are favoured when it comes to pairing a plain saree. This black blouse has a deep V-neck on the front and back. If you aren't afraid of showing your cleavage the simple design on this blouse has a sexy appeal.
8. Pearl-bordered Blouse
Pearls have a way of making anything look delicate and angelic. This fancy blouse design has a beautiful mix of light colours with patches and golden pearls. The back of the blouse sports a pot design with a pearl border and along the sleeves. You can wear this beautiful blouse with a chiffon or silk saree or lehenga.
9. Wedding Ceremony Blouse Neck Design
If you are looking for a stylish and unique blouse for your saree this is the best option. This Indian traditional beauty sports a red base colour with floral designs on the neck, back, and sleeves. Wear it with a gray or milky white saree so that people can appreciate the beauty of this designer blouse.
10. Adorable Designer Blouse
This is the perfect blouse for young women to wear for a stylish look. The harmonious mix of colourful patterns and the design gives this blouse an angelic look. Wear this blouse to date and all eyes will be on you the entire time.
11. High Neck Design Blouse
This contemporary and chic blouse has beautiful polka dots design. Wear this high necked beauty with a polka dot saree to a casual party. This is a simple sleeveless blouse design with beautiful colours to put you in the mood to party.
12. Patch and Stonework Blouse Design
A stunning blouse design that sports knitted work with small pears, diamonds, and patches on the semicircular neck and a plain simple design on the back. This design is called gamthi work design or bandhej Bharat design.
13. Maharashtra Blouse Design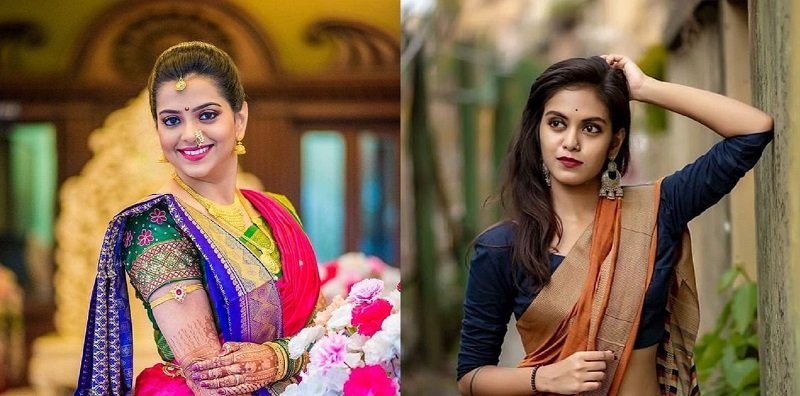 The puffy sleeves design and the bow at the front gives this fancy blouse design an adorable look. The blouse sports a deep neck at the front with a hexagonal design at the back. Cotton and silk fabrics are used to allow the curves in the middle section
14. Patchwork Blouse Design
This blouse has a hexagonal design on the back with studded mangoes patchwork and tiny golden charms and golden-laced sleeves. This design is preferred by many brides to wear it with a heavy bridal patola saree.
15. Elegant Lace Blouse Design
This elegant blouse sports one shoulder made in lace with floral designs. This blouse can have a patch lace design of circular barbells, mango cuts, and many others. This blouse is suitable for party wear.
16. Halter Neck Bikini Blouse
The beautiful pattern done of the blouse and the bikini design on the neck is very attractive. This blouse sports no sleeves with simple neck stripes tied at the back leaving the back open. Wear it with a plain saree to highlight the design on the blouse.
Conclusion
With the changing trends in the fashion industry, there is a wide range of fancy blouse designs that you can wear with your beautiful saree.
Author Name – Shrutika  Potwar.
Bio –Shrutika is full time SEO Analyst and on the-side blogger. She has 2 years of experience in IT sector. She is working at https://stylecaret.com a fashion e-commerce portal in India. She loves to write and share about Fashion, Lifestyle and Technology and many more categories in spare time.
Find her on – Facebook, LinkedIn, Twitter