As the internet is flooded with the heart-wrenching stories of grief and life losses with the devastating rise in the number of affected cases of COVID-19, a helping hand of hope is what keeps us going. As the state of Assam is presently undergoing a mini lockdown, many of the marginalized communities are the worst sufferers and are struggling hard to manage a single meal of the day. Witnessing the plight of the needy people in rural pockets of Bhuragaon town in Morigaon district, Assam a popular youth sensation and YouTuber Rabbani Soyam volunteered to support the cause.
Rabbani is a well-known youth influencer and content creator from Assam and currently owns two YouTube channels "Buddies" and "Rabbani Soyam" with a subscriber count of 6,31,000 and 78000 respectively. He is active on the leading social media platforms such as Facebook with 96000 followers and Instagram with 160000 followers. He has also received a silver play button from YouTube in the year 2019.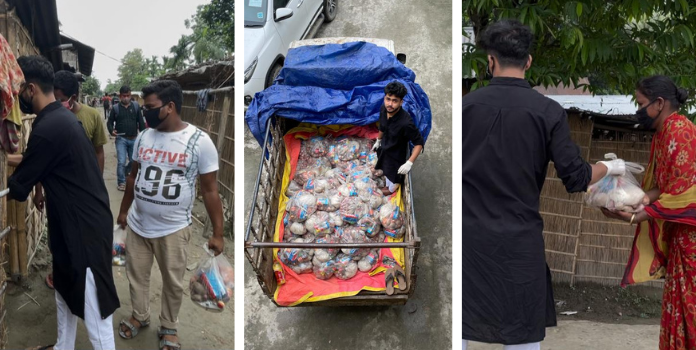 He has also appeared in many music videos and short films under leading banners and have garnered acknowledgment with his performances. He along with his team – Buddies (YouTube channel) have distributed food supplies, safety kits, and other essentials to 150 facilities at Bhuragaon. The beneficiaries are mostly petty shop owners, farmers, daily wage workers etc. who resides in the flood-prone areas and due to the transport bottlenecks and immobility hazards, they are presently confined in their home with limited supplies and struggles for a living. Rabbani Soyam through his honest efforts and initiative in helping the communities is setting an example for the privileged section of the society and the youth to help each other to combat the difficult times making a way for a better and safer tomorrow.
Written by: Ankita Kakaty