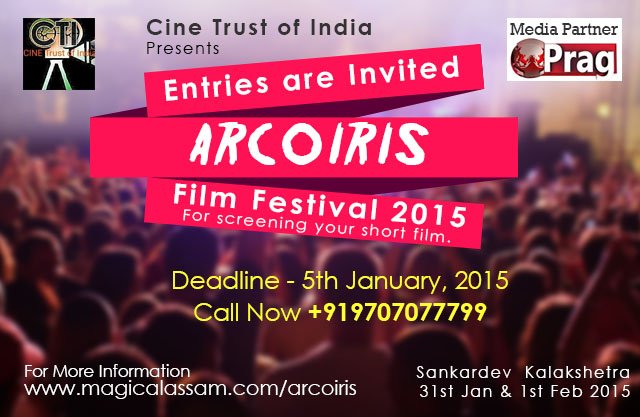 CINE Trust of India, a socio-cultural organisation dedicated to film & art invites entries from filmmakers for participation in the "ARCOIRIS Film Festival 2015" to be held at Sankardev Kalakshetra from January 31, 2015. ARCOIRIS is a very good platform for zero budget filmmakers to showcase their talent.
The previous version of ARCOIRIS film festival held at Rabindra Bhawan, Gauhati University and Tezpur University.
Deadline : 5th January, 2015, Entry FREE
Call for Submission : +919707077799
Agenda for ARCOIRIS 2015
Inaugural & Welcome Speech (By the Organizer)
Director's Introduction & Filmography Summary –
– Experimental Indie Films (2004-10)
– Disney's Zokkomon Storyboarding (2008- 09)
– UFO (2009)
– Indies – 'Savages' & 'Opekkhyat Moi' (2010)
– Assam Tourism Animation Ads Campaign (2009-11)
– Spiridon – TV Serial (2011-12)
– Professional Short Films (2013-14)
* I am not crazy
* A Misinterpreted Malady
Introduction to the wonderful world of Science (in context to film Avataran). Ancient Aliens theory, Evolution and future of Mankind.
The History & Legacy of Scifi Films & Box office Record.
Film Avataran-
* Conceptualization, Scripting, Storyboarding
* Shooting & Post Production (The making of a multi-crore Scifi Fantasy Epic)
Screening of Avataran's Trailers & Music Video 'Bedona Bhora'
Discussion on Guerilla (Zero-Budget) Film Making and its Future Prospects – Interactive Session with Audience.
Closing Speech.
Important Dates
Festival Date : January 31 and February 1, 2015
Screening And Competition : January 31
Workshop : February 1
Last Date of Film Submission :  January 5
Last Date of Workshop Joining :  January 7
Entry FREE for Film Screening and Competition
Fee For Workshop – 1500 INR
Panellist : Prodyut Kr Deka, Poran Borthakur, Tarunabh Dutta and Mallika Buragohain.
Publicity Adviser : Samir Ranjan, Prag Channel
Media Partner : Prag News, Rengoni
Online Partner : MagicalAssam.com
ARCOIRIS is always motivated to bring good cinema, its language and various pursuits closure to the common viewer. It is steadfastly motivated to push fresh new talents and aspiring film makers to newer heights. The starting point is to exhibit films that have a lot of depth and artistic integrity – films that viewers and audiences can identify with and in the process, create a congenial viewing climate. The idea behind it all is to create a sound atmosphere where ideas could be exchanged and basic techniques can be imparted.
Join the Facebook Event Here : https://www.facebook.com/events/412892132197670/
Call for Submission : +919707077799